Hosts
Red Benson 12/20/1952-6/14/1954
Bill Cullen 10/2/1954-3/24/1955
George DeWitt 3/27/1955-10/19/1959
Announcers
Stan Sawyer
Bob Kennedy
Wayne Howell
Johnny Olson
Broadcast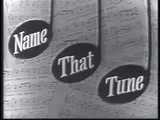 NBC Radio: 12/20/1952 – 4/10/1953
NBC Primetime: 7/6/1953 – 6/14/1954
CBS Primetime: 9/2/1954 – 3/31/1955, 9/27/1955 – 10/19/1959
Packagers
Tel-O-Tune Productions in association with Harry Salter Productions
This is chronicling the original 1950s version of Name That Tune.
Format
The contestants would stand across the stage from two large ship's bells and the band would start playing tunes. When a contestant knew the tune he/she would run across the stage to "ring the bell and name that tune!" Four tunes were played in each game, and each tune was worth increasing dollar amounts as follows:
Tune #1 - $5
Tune #2 - $10
Tune #3 - $20
Tune #4 - $40
In the George DeWitt era, there were only three tunes paying $10, $20 and $30 respectively.
The player with the most money after all the tunes had been played won the game and advanced to the bonus game called "The Golden Medley". In the DeWitt era, when there was a tie (not possible under the first scoring system, except at 0-0), both players played as a team.
Golden Medley
In the original series, all the tunes played were selected by home viewers. Each correct tune won money for the winning contestant as well as the home viewers. The first correct answer was worth $25, and each subsequent correct answer doubled the money. Naming all seven won $1,600 and gave a home viewer a chance to come to the New York studio (where the show was taped at that time), and play along with the studio contestant in a special round called the "Golden Medley Marathon".
The Golden Medley Marathon
In the Golden Medley Marathon, the winning home viewer and the winning studio contestant worked as a team. This time, the two players had to correctly name five tunes within 30 seconds, and if they could, they split $10,000 and returned on the next show with an attempt to do it again. They could keep coming back for up to four additional weeks, and potentially could win a combined $50,000.
Memorable Contestants
In 1957 juvenile actor Eddie Hodges and Marine Corps pilot John Glenn teamed up to win $50,000 in the Golden Medley Marathon. Hodges went on to appear in The Music Man, while Glenn became even more famous as an astronaut and senator from Ohio.
Another memorable contestant from the DeWitt era was teenage singer Leslie Uggams, later a regular on Sing Along with Mitch. She also had her own short-lived variety show on CBS in 1969.