Jurassic World: Dominion Dominates Fandom Wikis - The Loop
Play Sound
Host
Thanh Bach
Broadcast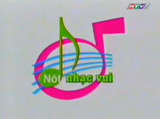 HTV7: 1/14/2004-3/25/2009
Nốt nhạc vui (Happy Notes) is the Vietnamese version of Name That Tune that aired weekly on HTV7 in primetime from January 14, 2004 to March 25, 2009, and ran for 272 episodes. Thanh Bạch was the host in this version.
Gameplay
Contestants were mostly high school and college students, but celebrities began to appear a few years later. Three contestants, one a returning champion, played each game, each compete together to test their knowledge about music. Each takes their place behind a podium, with the returning champion occupying the leftmost podium (from the viewer's perspective).
Round 1
Contestants played in a Jeopardy-style game board. The board consists of four music categories, and each category contains four tunes, each valued randomly at 50,000đ to 250,000đ in increments of 50,000đ. The value of the tune is displayed on the board right after it is chosen. Contestants can ring in anytime once the tune is played. A tune is automatically thrown out of the game if a contestant named a tune incorrectly, or he/she doesn't respond in time.
Each category contains a "Nốt nhạc may mắn" (lit. Lucky Note), and whether it is found, contestants can double the value of the tune simply by completing a bonus challenge (for instance identify the composer, sing the song itself,...)
Round 2
In this round, all tune values of a single category were identical. The first category was worth 100,000đ per tune, and the next categories were worth 150,000đ, 200,000đ, 250,000đ per tune respectively. The value of the tune decreases by 10% of its original value by each second (for example, a tune worth 100,000đ will decrease its value by 10,000đ per second). A tune is automatically pulled out of the game if the tune's bank hits zero, or as in Round 1.
After the round has ended, the contestant with the least amount of money will be instantly eliminated from the game.
Round 3 (Bid-a-Note)
The host read a clue to a song and the contestants alternated bidding as to how few notes (from a maximum of seven) they needed to identify the song. Bidding ended when one contestant challenged the other to name the tune or a bid of one note was given by a player. Correctly identifying the song earned the contestant a point, while missing it gave the point to the opponent. It took three points to win the game. and each correct song earns 300,000đ for a contestant, win or lose. The winner of this round is declared the champion and move on to play the Golden Medley.
Bonus Round (Golden Medley)
The goal of the round was to identify seven tunes in 30 seconds to win the grand prize. The champion stopped the clock by hitting a buzzer, which was a cue for the band to stop playing and could either give an answer or pass if he/she was not sure. Once all seven tunes were played, the champion went back to play the passed tunes if there were any.
Play continued until the champion correctly identified all seven tunes and won, until he/she ran out of time, or if a wrong guess was given at any point, which resulted in an automatic loss.
The Golden Medley was played for a grand prize of a fixed 5,000,000đ, and if the Medley is not won, the champion earns 50,000đ for each correct tune.
Champions could stay until he/she is defeated or played the Golden Medley five times. He/she could earn 25,000,000đ in the Golden Medley plus their main game winnings, provided that the contestant won each Golden Medley round over a five-show reign as champion.
Notable contestants
Many contestants throughout the show's history have received significant media attention because of their success on Nốt nhạc vui, particularly Nguyễn Mai Thanh, who was the third ever five-time champion, and also the winner of the 2004 Tournament of Champions. She was also the first contestant to win the Golden Medley three times during her run, included a win in the tournament finale.
Nguyễn Mai Thanh
Nguyễn Mai Thanh (born 1983), a graphic designer originally from Ho Chi Minh City, Vietnam, was an undefeated five-time champion during the show's first year (2004). She won a total of 27,780,000đ during her reign as champion, included two Golden Medley wins, and 7,095,000đ in the 2004 tournament match. In her first game, she also set a record for the fastest Golden Medley win ever (named all seven tunes correctly in 15 seconds).
Her twin sister, Nguyễn Mai Thảo, was also a contestant on the show as well, and was a two-time champion. She's interested in music since she was young, and she used to design websites for some singers like Lam Trường, Thanh Thảo, Cẩm Ly,...
She's the winner of the 2004 Tournament of Champions, and her opponents were Uyên Phương and Sơn Quyền. Her run is now available on YouTube.
Uyên Phương
Uyên Phương (born 1985), a former student at Conservatory of Ho Chi Minh City, was an undefeated five-time champion in 2004. She was a finalist of the 2004 Tournament of Champions, and lost to the winner Nguyễn Mai Thanh.
Episode status
All episodes exist, but only a handful of episodes are available on YouTube. Former contestant Nguyễn Mai Thanh uploaded nine episodes on YouTube, including five consecutive episodes from her championship reign, the 2004 tournament match, and Nguyễn Mai Thảo's run as well.
Some partial episodes (including MTV, Lam Trường and Quang Vinh's appearances) also available as well.
References